Crossroads Equipment Lease and Finance Joins Ranks of Monitor's Top 30 Independents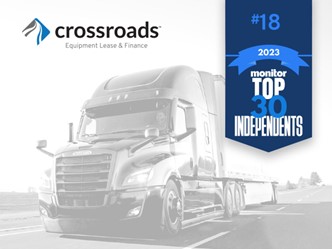 Los Angeles, CA (April 11, 2023) – Crossroads Equipment Lease and Finance, a national lender focused on commercial transportation, has earned a spot in Monitor's Top 30 Independents, ranking 18th among the best performing independent equipment lenders in the United States.
This distinction highlights an impressive achievement in an ambitious growth strategy. Crossroads continues to gain market share by focusing on the success of its customers and its roots in commercial transportation.
With over $600 Million in total assets and over $356 Million in new business volume, Crossroads recently ranked 69th in the 2022 Monitor 100 , the publication's annual list of largest equipment finance and leasing companies in the country.
"Crossroads has grown steadily in recent years, and this accomplishment is a true testament to the efforts of our teams" – says President Howard Shiebler."But we are just getting started. We aim to bring a new level of sophistication to commercial lending. By concentrating our focus on transportation equipment, Crossroads can gain valuable insights and meet the evolving challenges faced by our customers."
About Crossroads Equipment Lease and Finance
Crossroads Equipment Lease and Finance, LLC is a leading transportation equipment leasing company headquartered in Southern California. Over the years, we have grown into a national lender with an array of financial products designed to help businesses succeed. We strive to build long-term business relationships by offering prompt, flexible, and tailor-made financing that preserves capital. Our industry expertise affords our customers a competitive advantage in the market.
Monitor is the leading independent trade news source for the equipment finance & leasing industry. For more information visit: www.monitordaily.com